Amateur Contact Log 7.0.8
(System Requirements - Windows 7 through Windows 11. XP and Vista versions here.)

Download Amateur Contact Log Now!

If you are upgrading from a previous version of AC Log, please click here for the the steps to upgrade.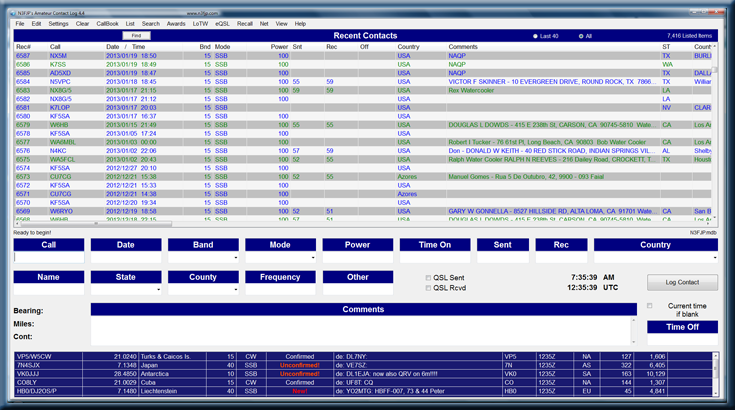 Amateur Contact Log's Dark Theme Color Option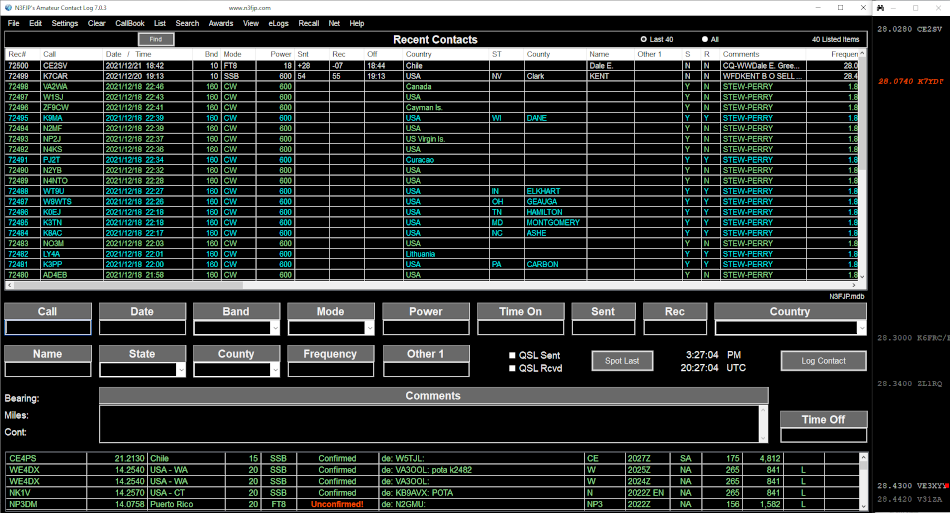 The Origin of Amateur Contact Log
In 1976, at the beginning of my amateur experience, my Dad, Fred - WB3DLV (now a silent key who LOVED CW), and I used index cards to keep track of our contacts. After I started computer programming, I knew I wanted to create a program that would perform all the functions my Dad and I used to dream about when I was a kid. The result of this dream is Amateur Contact Log.
Not only have our ideas been included, I have also incorporated many of the fine suggestions I have received from thousands of AC Log users around the world. I can't thank everyone enough for your ideas, support and kind words. I am grateful for all the positive response I have received for AC Log, and very thankful for the friends I have made as a result of it. I hope you enjoy using AC Log as much I enjoy creating and supporting it!
Amateur Contact Log Features:

Very easy and intuitive to use!

Tracking of Worked All States, Worked All Counties, Worked All Countries, DXCC, VUCC, Grids, Zones, IOTAs, Lighthouses and many other achievements.

The user interface is customizable! You can choose to display any of the data fields you want and decide where you want them. The DX Spotting window can now be set to any size you like! You can also change the font sizes of all the fields, lists and text boxes as well!

Includes a database of counties and countries.

Query by band, mode, or power level to easily track your accomplishments by individual and multiple criteria.

Lists previous contact details with the station currently being worked including name, dates of previous contact(s), QTH, etc. just by typing the call in the call field and hitting the Tab key.

A bearing and distance calculator from your QTH for DX contacts and grid squares.

Easily import data from our contesting software via ADIF Format.

Full support for standard Amateur Data Interchange Format (ADIF) import and export. Export your whole log or selected records in ADIF for applications such as eQSL and the ARRL's LoTW (Log Book of the World).

Easily manage your log and Logbook of the World (LoTW). ACLog will sign and upload your contacts to LoTW and download your confirmations from LoTW.

Upload QSOs directly to eQSL, QRZ and Club Log.

Interfaces with most Elecraft, Icom, Kenwood, Ten Tec and Yaesu radios.

Interfaces with many digital programs and other software via API including WSJT-X, N7YG, Fldigi, JTAlert, PSK Express and more!

A Net Manager form, used for logging with multiple stations. Whether you are managing a formal net or just joining in on a casual round table, this form makes logging with a group quick and easy.

Provides DX spotting via Telnet, your packet TNC or AGW Packet Engine. Audio alert for needed spots.

Send keyboard CW via your comm port or WinKey and play wave files via your sound card.

Quickly print basic QSL label strips and address labels (does not support label printers and labels are not customizable through AC Log).

Interfaces with the QRZ and Ham Call Internet lookup services, as well as several free options.

Interfaces with many digital programs and other software via API including Fldigi, JTAlert, PSK Express and more!

Optionally display your call sign when the program loads!

Easily customizable for Parks on the Air (POTA) operations!

Display all the entities you have worked, current QSOs and DX Spots on a real time world map!

Fully networkable! Whether you want to use AC Log for a DXPedition, or you just want to access your log from multiple PCs simultaneously at your home or club station, AC Log will support multiple clients updating a single database, just like our Field Day software!

Click here for a revision history of this program.
Here is a quick start video I created that will give you a whirlwind tour of some of the main features of Amateur Contact Log:
Amateur Contact Log Registration
Amateur Contact Log is free to try and fully functional for 45 days from the date of installation. For permanent use, a one time $39.99 registration fee is required.
Register all of our logging software at once and save hundreds with the N3FJP Software Package! Please see the Register Now! page for details!
Registration Options:

Please send Cash, Check or Money Order payable to Affirmatech Inc. for registration of this program. Please be sure to include your call sign and e-mail address with your request so we can process your registration promptly! Please send your payment to the address below:
Affirmatech Inc.
G. Scott Davis, N3FJP
118 Glenwood Road
Bel Air, MD 21014-5533

To purchase by credit card, PayPal or Venmo, please select an individual program, or buy the entire package at once and save hundreds!
After you complete your transaction, you will see a "Thank You" page, and PayPal will send you a Receipt of Payment in just a few minutes. When we receive Notification of Payment from PayPal, we will promptly send your password via e-mail. If you have not received a confirmation within 24 hours, please send us an e-mail. Your PayPal payment will be sent to:

Amateur Contact Log - $39.99
---
Register all our software at once as a package deal and save hundreds!
N3FJP Software Package - Only $59.99!
N3FJP Software Package includes full registration of all our amateur radio software (more than one hundred programs in all) and our WX Warn weather software, too! Simply install the software from this website whenever you like. This option also includes free registration of any additional amateur radio software that we add to the package, as well as free upgrades to existing programs. There are no annual / maintenance costs of any kind. Simply pay once and you are set with N3FJP Software for life!
This option is a great deal and your best value! To register all the programs individually would cost over $400.00! For more details, click here!
---

---