What do I need to install a trench out to my collector and what should be in the conduit?
Whether you are just digging down 8 inches and using glycol for freeze protection, or you are planning to dig below the frost line, you'll want to give careful thought to what you bury. Once it is buried, you sure don't want to dig it up again!
One teenager and one adult dug and filled this 8 inch deep, 100 foot trench in one weekend by hand.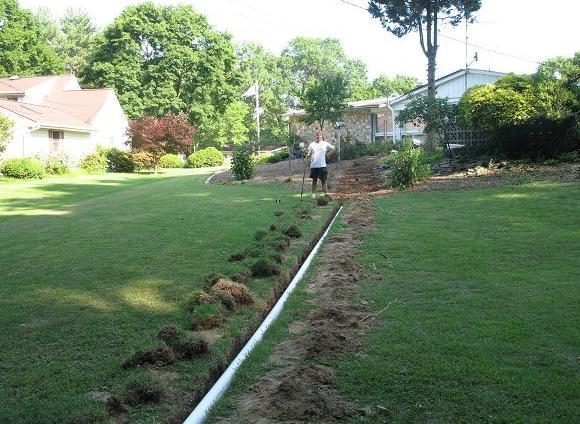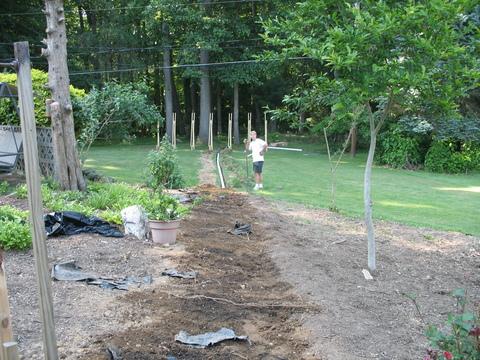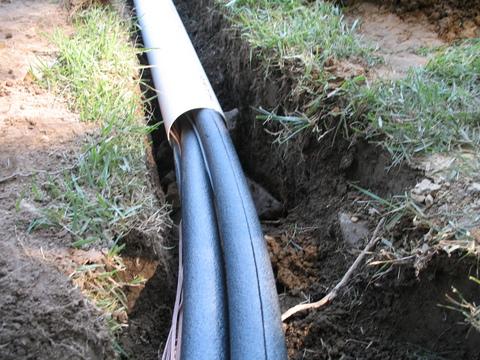 Here is a list of what is included in the 4" PVC sewer pipe conduit:
- 2 runs of 1/2" Pex-Al-Pex (wrapped with insulation)
- 6 runs of 22 gage speaker wire (5 to splice in for wired thermometers and 1 for the differential controller sensor)
- 1 run of electrical wire (I put an outdoor electrical outlet on one of the panel posts which was handy during the construction phase)
- 1 run of LMR 400 coaxial cable (nothing to do with solar, but I'm an Amateur Radio operator and it was a great opportunity to get another run of coax back to the woods).
If I had it to do over again, I'd put in 3/4" pex for better flow.
How do I install thermometers to monitor the temperature at various points in my system?
No matter what type of solar collectors we build, we all need temperature sensors to monitor how well they are working. By having multiple sensors along the path of your fluid / air route, you can accurately determine the efficiency of your collector(s), how much heat you are losing in the run out to the collector and how well your heat transfer coil is working. By isolating the performance of the collector without the other influences, we can do a much better job of comparing how well different collector designs work, as well as determining accurately the effects of any tweaks we make to our systems. In addition to all that, it's very cool and a lot of fun to show your friends all the free heat you are capturing!
Here is the display I have along my desk so that I can monitor multiple temperature points along my system at a glance:

I'm considering building a frame to hold the displays.
It had been unusually cloudy for almost the entire week so the readings are lower than normal. Reading the white thermometers from left to right:

1. Tank temperature (200 gallon) has already risen from 66 to 81.5 as of 10:46 AM.

2. (Egg shaped thermometer) fluid entering the first, 8' X 8' collector is 81.3 (minimal loss in journey through 100' trench)

3. Fluid exiting first collector / entering pex collector is 92.3

4. Fluid exiting the pex collector is 121.1

5. Internal pex collector temperature > 160.

So, my total temperature rise with the two collectors combined is about 40 degrees.

Installing temperature sensors is easy. Since most of the points we are monitoring are a distance away, we have to lengthen the wire from the thermometer to the sensor. While it may be tempting to get wireless thermometers, I recommend going the wired route. You aren't going to want to go out in the dead of winter to change batteries. Also, you will want to monitor multiple points and the wireless thermometers may interfere with each other.
Any inexpensive wired thermometer will work. There are lots to choose from under $10. They are available at Target, Walmart, Home Depot, etc. You can also order them on line here: http://www.partshelf.com/wired-indoor-outdoor-thermometers.html
Here are the steps for installing your temperature sensors:
1. Run wire, such as 22 gage speaker wire, from your display location to where you plan to attach a sensor. If you need a lot of wire, with a little Goggling you can find 1,000 foot rolls on line for $40 - $60.

I included six runs of wire in my 100', buried, 4" PVC sewer pipe conduit.

2. Purchase your outdoor, wired thermometers.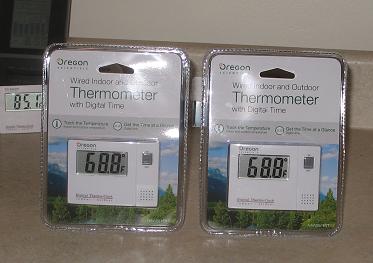 3. Cut the wire from the thermometer to the sensor: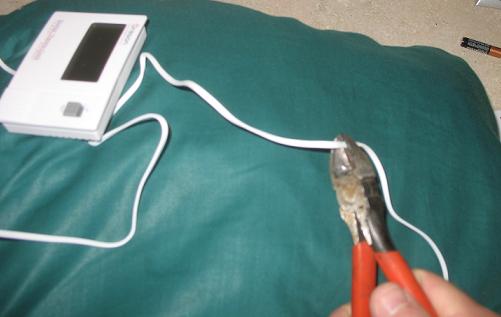 5. Strip the ends: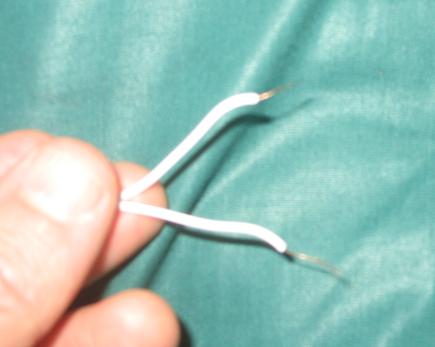 6. Repeat the process with the speaker wire and twist the ends together:

7. If you really would rather not solder, you can always simply twist on wire nuts and go to step 10. Otherwise, hold your soldering iron against the wire so that it gets hot enough to take solder. If you've never soldered wire before, don't worry, it's easy.

8. Touch your solder to the wire, not the tip of the iron. These wires are small, heat quickly and are very easy to solder. The solder will flow on to the wire: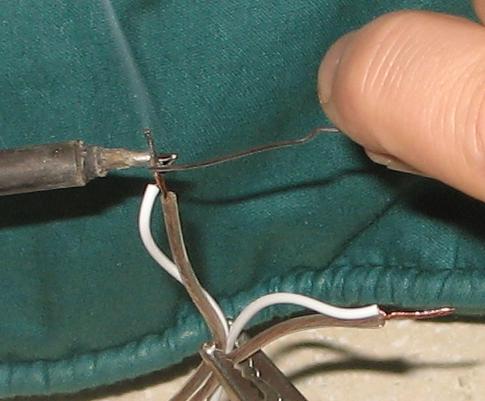 9. Wrap with electrical tape:

10. Decide on the location that you want to monitor, pull the insulation away and tape the sensor against your pipe with electrical tape: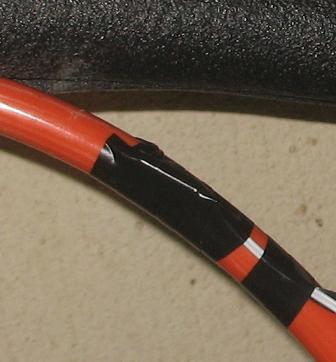 11. Cover with insulation and tape the insulation with electrical tape to hold it together: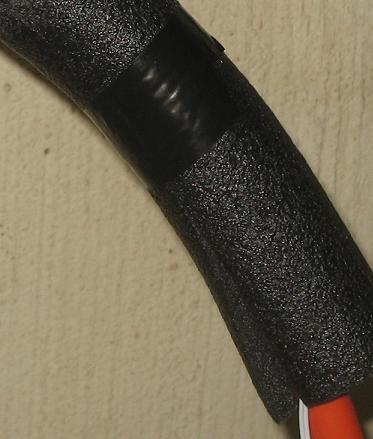 12. Repeat steps 5 - 9 to connect the sensor wire end to the other end of the speaker wire.

What is an easy, inexpensive way to ensure my system never builds up pressure?
If you install a drain back system where the water drains directly back into a thermal storage tank that's not air tight (most aren't), your system will never build up pressure and you don't have to worry about it. On the other hand, if you have a system that uses a heat exchanger and there isn't a place for the fluid to expand as it warms, there will be some pressure build up.
You can easily accommodate that in two ways. The most conventional approach is to use an expansion tank. I started out with one like this:
The only trouble with the expansion tank is that I couldn't see or monitor my flow rate and what was happening with my system. As an alternative, I came up with this approach; which only costs as much as an old iced tea jar, guarantees your system will never build up pressure and as an added benefit, purges any air that may find its way into your system:
Here, the pex tubing feeding the pump (behind the jar) draws water out of the container. Fluid returning after it has passed through the coil in the thermal storage tank empties back into the jar. It is important that both ends of the pex stay below the water level or some of your fluid may siphon back and over flow the jar when the pump shuts off. My jar happens to be at about the lowest point in the system, but works fine.
Monitoring your flow rate is easy. While your pump is running, just pull the returning pex pipe out of the jar and time how long it takes to fill a small glass.
I've been using this approach since August, 2009 and it is working fine. I keep an eye on the volume in the jar, which fluctuates with temperature, but seldom requires topping off.